---
Mark Bolitho
---
---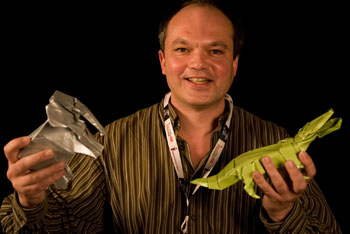 Mark Bolitho is one of the most accomplished origami designers in the world. After being interested in origami as a hobby since childhood, Mark made the transition to full-time origami designer in 2004.
Since then Bolitho has worked with a variety of clients to produce bespoke origami designs to meet commercial and artistic briefs. Clients include advertising and design companies, event companies, publishers and academic institutions.
Before focusing on origami full time, Bolitho worked as a Chartered Accountant in a variety of commercial operations from car manufacturing to venture capital. He has self-published three books of his original designs, including Creaselightning, which explores new origami styles and attempts to expand the possibilities of folding design.