---
Haim Goldenberg
---
---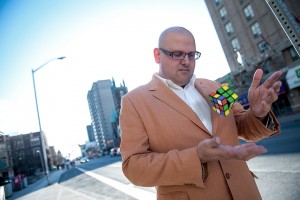 Haim Goldenberg – Real Life Mentalist
Mentalist, live performer and International TV personality.
Haim Goldenberg is an international TV star, mentalist and live performer. His TV series GoldMind, airing in over 20 countries, was nominated for two Gemini Awards.
Born in Israel, Haim took his first dip into the waters of mental experimentation when he was only six years old – and has never looked back. Creating and perfecting his own original skills for many years, today Haim is known internationally for combining the intensity of mentalism with his trademark easy-going humor and charm.
In his presentation Haim takes his audience on a journey to boundaries of their minds; "what he does is mind blowing but how he does it is inspiring".
Haim is currently performing worldwide and is working on his new TV show "Mind Makeover".